Delightful Gastronomic Experience

Taking cues from the bourgeois cuisine of Vilnius in the 19th century!
Come & feel the joy of mouthwatering food
Don't be afraid to lose the road for a pathway.
The courtyards of Vilnius are where you'll find the city at its most authentic. You've arrived at your destination – restaurant Mykolo 4.
The unforgettable spot tucked away in Vilnius's coziest street.

Every Flavor Tells a Story
From the scratch-books of local relatives, some of which date back to the 19th century, to our own discoveries, we've done our best to represent local cuisine in our Menu. This is what we've worked so hard on. Back alley tales from around these parts. Where it should be.
That's the way it is; you might not recognize the names of the well-known authors and historians who once occupied these rooms in the 19th century or earlier, but we think they had excellent taste. We hope you will think so too.
So here is the local menu.
Menu which is based on the history we were looking for. Menu which was told to us and was adapted to the nowadays techniques. 
Welcome.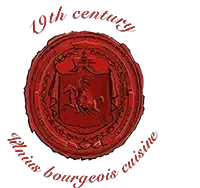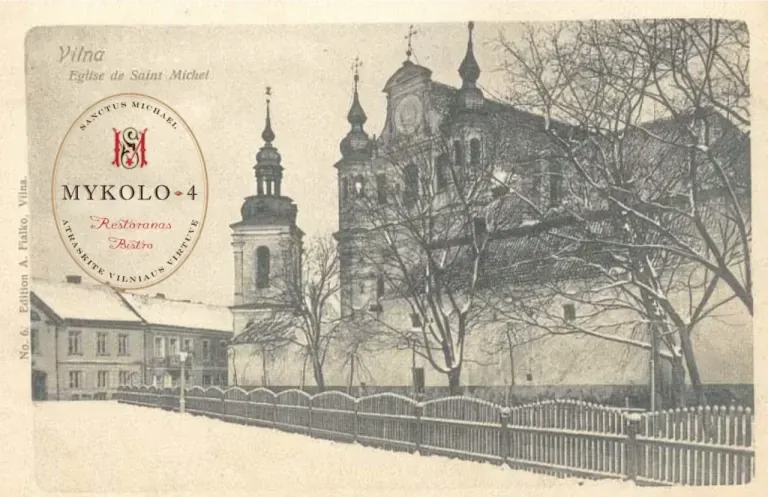 Visit us, and get embraced by gastronomic secrets of Vilnius bourgeois cuisine, Old Town cosiness as well as our sincere hospitality.
Pecorino cheese stuffed dates

Bacon, arugula, balsamic sauce
Onion jam and home-made bread
Baked local soft brie cheese

Onion jam and home-made bread
Goat's cheese with smoked pear salad

Salad leaves, black salsify, butter squash, beetroot dressing
Quail egg yolk, crispy fried potatoes
Potato, porcini mayonnaise, beetroot cream
Dried porcini, shampignon, mascarpone cheese, bread with schmaltz and fried mushroom
Vegetable ratatouille, plums jam, red wine sauce
Jerusalem artichoke puree, asparagus, shimej mushroom, bacon chips, macadamia nuts, lavage mayonnaise, apple wine sauce
Dumplings with mushroom filling

Soubise sauce with truffle, fried shimej mushroom with sage, sous vide egg
Black salsify puree, butter squash, romanesco, various mushroom, cherries sauce
Char fillet baked on cedar plank

Mint-green peas puree, caramelised cherry tomato, edible soil
rum soaked cake, mascarpone cheese cream, cranberries sauce, pistachios
Citrus parfait, honey cake base, orange-cream, white chocolate
Monday – Saturday: 12.00 – 23.00 
Discover a taste of vilnius

The most delicious Vilnius stories menu
Lightly salted pike perch fillet, grated potato pancake, cheese cream
Aged beef cut, asparagus, baby potato, beetroot –red wine sauce
Chocolate soil, strawberries sauce
Monday – Saturday: 12.00 – 23.00 
XVIII century was the time when remarkable vin français cult emerged in Lithuania's culture: it successfully took roots and stayed until the present days.
In pre-war Vilnius, bourgeois citizens were enjoying German and Hungarian wines, but the French ones coming from Bordeaux as well as Burgundy were the most desirable. During those times enogastronomy, explained by food and wine pairing, gained popularity too. 
Today the diners in our restaurant can enjoy various wines from the different winemaking regions that serve as a great aperitif or excellent food companion. We are very glad that our list is flourished with local Lithuanian production too. When the most advanced European winemaking traditions are being followed, even carefully selected fruits, as well as unusual berries, can turn to quality wine! 
When making a group reservation for 9 people or more, please contact us directly +37068822210 or [email protected].
If your plans change, you can cancel the reservation online at any time
Overdue waiting is 20 min. If You are late, please call us  +37068822210
Kitchen closes at 10:00 PM
Please ask your waiter if you require any information regarding allergies or intolerances
Dress code: smart casual
Tables are assigned automatically. If you wish to book your favorite table, please write a note in comment field or contact us directly.
4.5 stars from 600+ Reviews!

"Outstanding Restaurant in the City"
Excellent food and service at this family business Restaurant. Old lithuanian recipes cooked in a modern way, Delicious!
Chat with the Lady of the house and you'll know more about the backround of the food. Very cozy & relaxing atmosphere. Really worth to vitsit!
Lovely cozy place with a XIXth century atmosphere in small and quiet Vilnius old town street.
Nice terrace and fantastic feeling within indoors. Rich menu, fabulous dishes, highest customer service. Highly recommend.
This cosy little restaurant offers some of the most delicious food available in Vilnius, with a menu which respects old fashioned Lithuanian authenticity whilst innovating and not being afraid to experiment with flavour. Definitely a must visit restaurant! I would certainly return if back in the area.